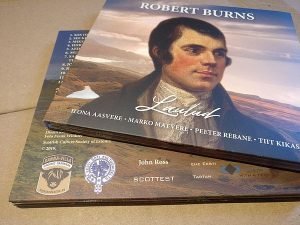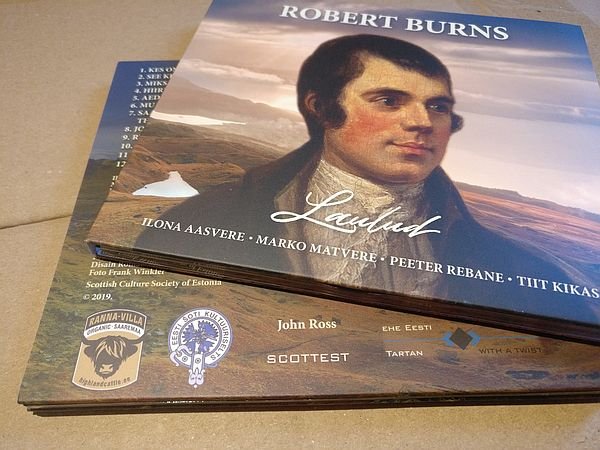 WHAT? Scottish Culture Society started the project of a CD of Burns Songs in Estonian in 2016 and the CD was launched at the end of 2019.
WHO? Ilona Aasvere and Marko Matvere – song / Peeter Rebane – guitar, ukulele, bass / Tiit Kikas – violin, flute, mandolin, parmupill, keyboards
WHY? This CD is a tribute to relations between Estonia and Scotland and revives Burns' spirit. CD has also a leaflet of words. The tunes are sung as ballads and create a very special atmosphere.

Watch the music video (teaser)
Media coverage from the cd launch concert 
Look at the pictures at the launch concert.
Purchase the CD HERE
This was not a commercial project, thus the funding was mobilized from different sources through cooperation. SILVER SPONSORS of the CD:
John Ross, a private person (a Scott living in Estonia)
OÜ Ranna-Villa http://www.highlandcattle.ee  (breeds Highland Cattle in Estonia) Do visit their website and pay them a visit when in Saaremaa! They also have a cafeteria in Kuressaare and we love them!
A glimpse of the start of the CD project in 2016 – A VIDEO
Huge task but accomplished in 2019!
Kind supporters of the CD:
The GDBA (Glasgow and District Burns Association)
The International Branch of the RSCDS –rscds-ib.org

Saka Manor (a wellness spa in a manor of Scottish roots) http://www.saka.ee/en/
Burns Club 100 £ Sponsors:
Helensburgh Burns Club, Scotland
Dumbarton Burns Club, Scotland
Burns Club of London, England
Dalry Burns Club, Scotland
A big thank you to:
Simpson Byglass from Scotland, Aberdeen (Honorary Consul to Estonia)
Eric Ferguson from Netherlands
Aran Farming http://aranfarming.eu
We thank each one of you who has supported this CD via fundraisers or by pre-purchasing the CD!
And last but not least:
A lottery at Burns Supper in Haapsalu in January 2016
A fundraiser in Estonia (Hooandja) in November 2016
A fundraiser in UK (Crowdfunder) in November 2016
A lottery at a summer party in June 2017 (We heard a lecture on "The Scottish mercenary forces under the Swedish crown in Estonia on the 16th century." At one point in history there were about 4000 Scots in Estonia. Want to know more about it ? Write to us, we know someone who has studied this in great depth.)
OÜ ScottEst auctioned collection "Upcycled with Estonian Tartan" at Burns Supper January 2018.